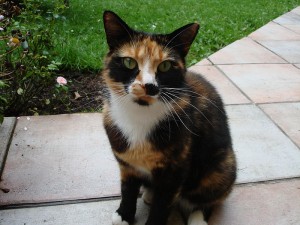 Okay, this is not what I was intending to write about today. In fact, I had a whole entry prepared about how small changes to one's environment can make big changes in behavior, using the example of my Starbucks experience this morning, which was notable.
But not anymore. Now I'm mad.
I work in an environment with cats. Three of them. They're not my cats; they belong to the business' owner, and working around them is a condition of employment. So here I sit.
It's not that they're not cute (well, most of them, anyway). And we'll set aside the fact that they shed all over everything and knock things over such that they've crippled electronic equipment and loaded up the laser printer with enough hair to look like a new breed of LabraDoodle. And that they periodically vomit on the floor of my office.
No, I'm agitated now because just as I was finishing up my previous post, one of the cats jumped onto my desk and walked over and hit the multi-button mouse in some way as to erase the whole of my writings. And because it's a web form and doesn't auto-save with the regularity of a full application, it's gone.
Does anyone know if you can sous vide a feline?
(No, no, PETA people. I'm kidding. About that last part anyway.) I'd grumble aloud, but the cats might take it for purring and shed some more on my carpet.